PARIS
6th October, 2018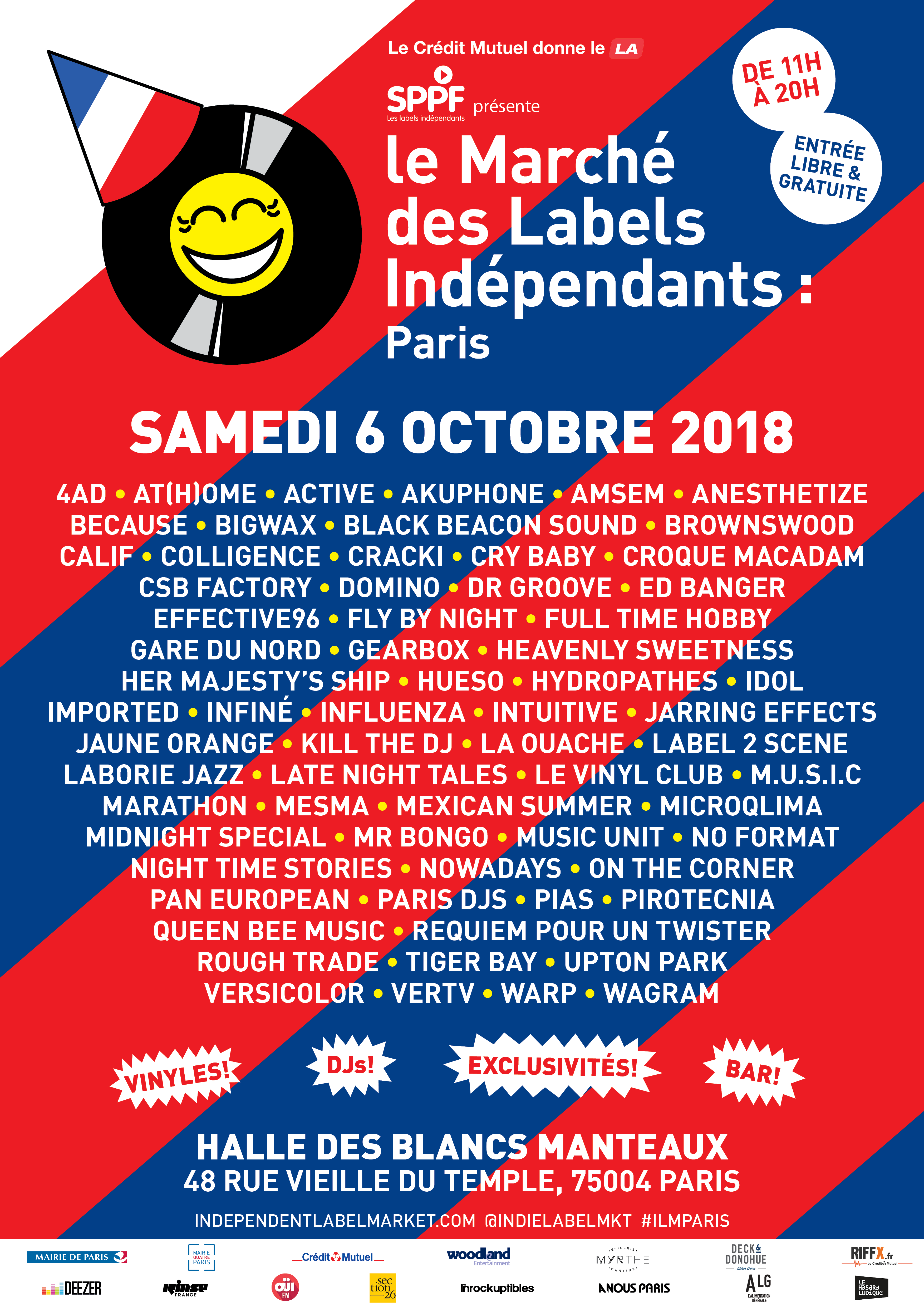 Independent Label Market and SPPF are coming back to Halle des Blancs Manteaux on Saturday 6th October for our third market in Paris.
After the success of the first two editions, we're delighted to be back in Paris joined by over 60 French and European labels! This free event, open to all features also an exciting list of activities:
DJ SETS: Vertv / Black Beacon Sound / Nowadays / Upton Park / Cry Baby / InFiné / Pirotecnia / On The Records / WeWantSounds / Effective96 / Her Majesty's Ship
SHOWCASES: XCIII from Anesthetize / Thibaut Pez from RiffX / Philippe Cohen Solal – Le Club des Hachichins from iYa Basta! / Grise Cormac from Music Unit
And radio program by Rinse FM all day!
Craft beers will be provided by the good peeps of Deck & Donohue, and organic and gourmet meals by cantine Myrthe.
We look forward to seeing you on Saturday 6th October, at 48 rue Vieille du Temple, in the 4th arrondissement of Paris, to celebrate independent music! Free Admission!  BE THERE!
AFTERPARTIES:
> Cheb Gero (FR-Akuphone) & Pete Buckenham (UK-On The Corner) at l'Alimentation Générale.
> DJ Raff (CL-Pirotecnia) & Puma Squat (CL-Hueso Records) at Hasard Ludique.
> Hybu , Gin Yonic & La Veillée Pop (FR-Requiem pour un Twister) at Le Motel.
Labels: 4AD + ALL POINTS + ANIMAL 63 + A(t)HOME + ACTIVE RECORDS + AKUPHONE + ANSEM RECORDS + ANESTHETIZE + ANTE PRIMA + BECAUSE + BELIEVE + BIGWAX + BLACK BEACON SOUND + BROWNSWOOD + COLLIGENCE + CRACKI + CROQUE MACADAM + CRY BABY + CBS FACTORY + DIFFER-ANT + DOMINO + DR GROOVE + ED BANGER + EFFECTIVE96 + EVIDENCE MUSIC + FLY BY NIGHT + FULL TIME HOBBY + GARE DU NORD + GEARBOX + HEAVENLY SWEETNESS + HER MAJESTY'S SHIP + HUESO + HYDROPATHES + IDOL + IMPORTED + INFINÉ + INFLUENZA  + INTUITIVE + JARRING EFFECTS + KILL THE DJ + LA OUACHE + LABEL 2 SCENE + LABORIE JAZZ + LATE NIGHT TALES + LE VINYL CLUB + M.U.S.I.C + MARATHON + MESMA + MEXICAN SUMMER + MICROQLIMA + MIDNIGHT SPECIAL + MR BONGO + MUSIC UNIT + NAÏVE + NO FORMAT + NOWADAYS + ON THE CORNER RECORDS + PAN EUROPEAN RECORDINGS + PIAS + PIROTECNIA + QUEEN BEE MUSIC + REQUIEM POUR UN TWISTER + ROCHE MUSIQUE + ROUGH TRADE + TIGER BAY + UPTON PARK + VERSICOLOR + VERTV + WAGRAM + WARP + WEWANTSOUNDS + WIAIWYA + iYa basta! + YOTANKA
#ILMPARIS
https://independentlabelmarket.com/
http://www.sppf.com