MANCHESTER
5th December, 2021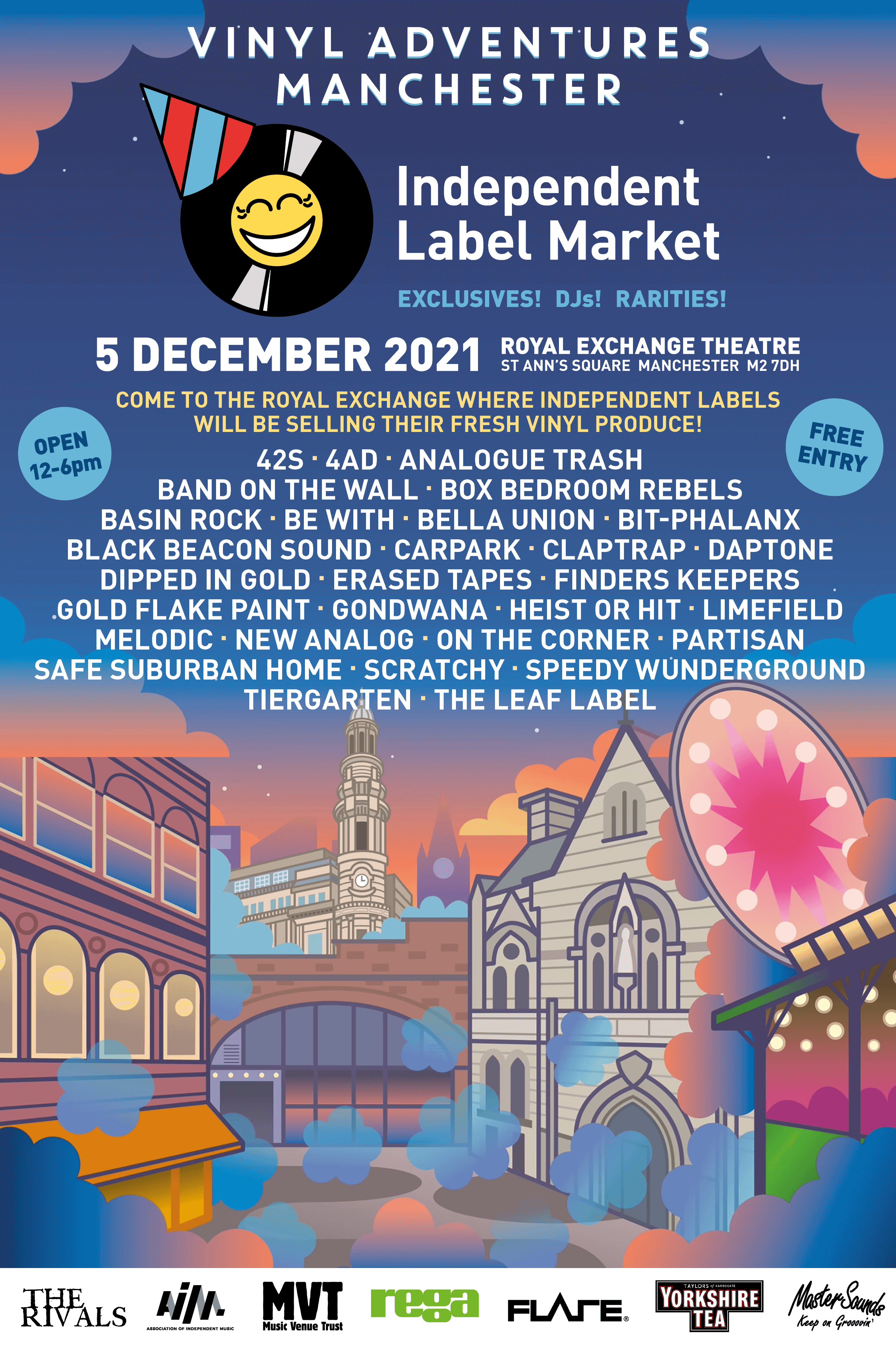 We are delighted to be partnering with Tim Burgess' excellent Vinyl Adventures for our first ever Manchester event!
Our label market will take place on Sunday 5th December at The Royal Exchange Theatre in the heart of Manchester's city centre. Expect a host of labels, DJs and good times, as well as many other happenings across the city!
Join the event !
GET A PREVIEW OF WHAT YOU'LL FIND AT THE MARKET!
VINYL ADVENTURES MANCHESTER
A citywide record fair featuring events, live podcasts, gigs and happening with stallholders including Tim Burgess, The Lovely Eggs, We Are Scientists, Badly Drawn Boy, Gail Myerscough, Peter Doherty, LIINES, Clint Boon, Microdot Creative, James Walsh, Keel Her & more
Participating venues and record shops include Gorilla, The Deaf Institute, 33 Oldham Street, The Royal Exchange, Escape To Freight Island, Piccadilly Records, Mars Tapes, Vinyl Resting Place, Clampdown Records, Eastern Bloc Records, Vinyl Revival, Wax and Beans, Stutter & Twitch.
DJ SETS
12:00 → Matthew Halsall (Gondwana)
1:00 → Dylan Leggett (Melodic)
2:00 → W. H. Lung
3:00 → Be With Records
4:00 → 4AD
5:00 → Dorian Cox (The Long Blondes)
ROUND PEGS/SQUARE HOLES EXHIBITION
We are delighted to announce 'Round Pegs/Square Holes', an exhibition of one hundred record sleeves as designed by Andy Votel, to be hosted at 33 Oldham St Manchester from 1st December. Having spent the last 25 years creating over 300 record sleeves (amongst as many posters, books an typefaces) Manchester creative all-rounder Andy Votel has agreed to formally exhibit 100 of his personal favourite sleeve designs in an exclusive event for this December's Independent Label Market.
MUSIC WORKSHOPS: FUTURES
Free music industry workshops for young people; neurodiversity and inclusion, record label careers and funding in the creative industries