LONDON SUMMER MARKET
13th July, 2019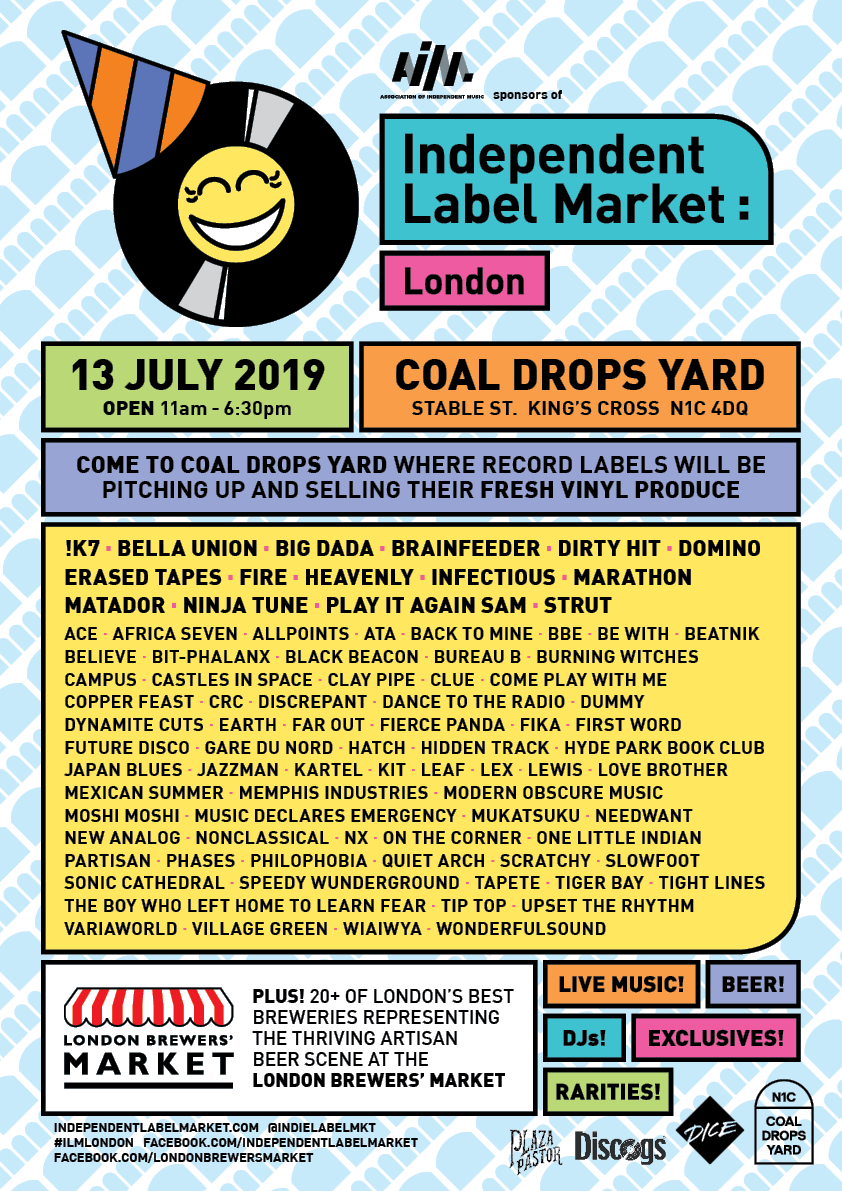 We are delighted to announce Coal Drops Yard in Kings Cross as the new location for our flagship London events!
For its annual summer bash Independent Label Market will be hosting a massive vinyl fair at Coal Drops Yard, London's new space for commerce and culture.
Setting up alongside London Brewers' Market, expect fresh beers ? live music & DJ sets ? and independent record labels pitching up to sell their fresh vinyl produce!
DJ SETS
11:00 -11:45am – Leaf Label
11:45 – 12:30pm – Mukatsuku Records
12:30 – 1:30pm – Castles In Space
1:30 – 2:30pm – Black Beacon Sound
2:30 – 3:30pm – HEAVENLY RECORDINGS
3:30 – 4:30pm – Fire Records presents 'The Outer Limits'
4:30 – 5:30pm – Ace Records
3:30 – 4:30pm – WONDERFULSOUND
LIVE MUSIC
For the first time in London, we will be hosting a live music stage at Casa & Plaza Pastor!
3.00PM – 3.30PM – Leather.head
LEATHER.HEAD deal in janky rhythms and soaring saxophone which walk through the shadows of This Heat and Lounge Lizards. They are still yet to release a single song but have been forging a name for themselves with the anxious/dynamic live shows.
3.45PM – 4.15PM – Tiña
Introducing South-London's Tina. The band is a supergroup-of-sorts, made up of members of Bat-Bike, Uncle Tesco, Pet Grotesque and Goat Girl. Debut single I Feel Fine was recently released on the Speedy Wunderground label, produced by mastermind Dan Carey (Kate Tempest, Squid, Black Midi). Following on from support slots with the likes of Sorry and Pottery, Tina head to the Independent Label Market for an intimate, stripped back show.
https://www.facebook.com/Ti%C3%B1a-1959363517637737/
https://www.roughtrade.com/gb/music/tina-i-feel-fine
4.30PM – 5.00PM – Alan Power
Alan Power is a UK based singer, songwriter, recording artist and comedian. Like something out of Phoenix Nights, Power emerged from nowhere early last year following a series of much talked about live appearances. Spending the latter half of 2018 making an Album and touring extensively, he sold out two London shows with no music online, and shared a stage with The Vaccines, Matt Maltese, Jack Ladder, Spector, Nick Allbrook and The International Teachers Of Pop among others. His music is rooted in traditional country and folk with notable leanings towards the abstract / post punk and experimental. His live show has provoked attention for its unconventional nature and unpredictability. Following the release of critically acclaimed debut album; Greatest Hits Vol. 1 – the mysterious Power looks like he might be one of the surprise breakthrough acts of 2019.
https://l.facebook.com/l.php?soundcloud.com/alanpowermusic
AFTERPARTIES
BBE Music @Supermax from 8.00pm until 01.00am
Be With Records @Spiritland from 8.00pm until 01.00am
LABEL LODGE
With Sohoradio x Jägermeister x Association of Independent Music
In the week leading up to the market event, labels will take over each day and host artist and label radio shows, live performances.
Mon 8th July – [PIAS]
Tues 9th July – Phases feat. Alex Kozobolis, Patrick Jonsson and Erland Cooper
Weds 10th July – Partisan Records
Thurs 11th July – HEAVENLY RECORDINGS
Fri 12th July – Lex feat. artists Andrew Hung and Lex DJs