LONDON WINTER MARKET
30th November, 2019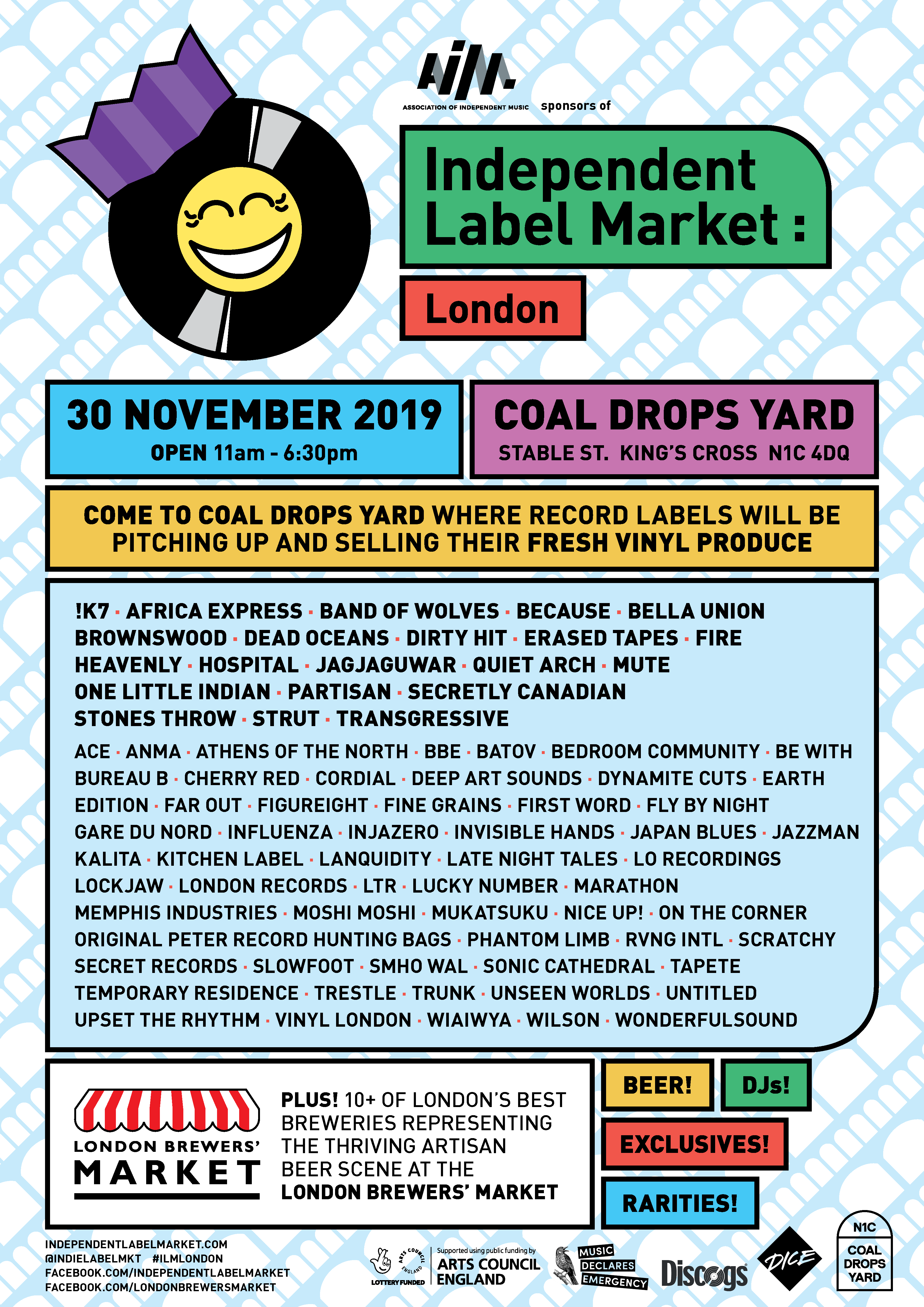 We are back at our new London venue
Coal Drops Yard
on 30th November with
London Brewers' Market
for our annual Christmas market ?
Join us from 11am until 6.30 pm for some amazing Christmas deals from the best indie labels, local Craft beers, DJ sets and afterparties to celebrate the cream of independent music into the night!
For this special winter market, we are partnering with War Child UK, the international charity that protects and supports children affected by war. The Winter Appeal charity auction will see the auctioning of rare vinyl donations from independent labels, including:
> from XL Recordings  – Thom Yorke 'Anima' Limited Edition Preview 12″. Made especially to be given away at Paul Thomas Anderson's advanced IMAX screenings of the ANIMA one-reeler.
> from Heavenly – An impossibly rare test pressing of the 'Drop Out' album by cult indie icons East Village.
> from Because Music – signed Metronomy 'Metronomy Forever' LP and CD and 'Metronomy Forever' jigsaw puzzle, only ever sold at their shows. Plus a white label test pressing of their 'Summer 08' LP.
> from Mute – signed gold vinyl box set of The Pop Group's highly influential and innovative debut album 'Y' released in 1979, remastered (from the original tapes) and cut half-speed at Abbey Road, limited to 500 copies.
> from Partisan Records – a test pressing of Bristol punks IDLES first album 'Brutalism'
DJ SETS
11.00 – 11.45 – Warm up by Desbies
11.45 – 12.30 –  DJ Kobayashi (Batov Records)
12.30 – 13.30 – Jonny Trunk & Blaxploitation ED (Trunk records)
13.30 – 14.30 – Fire Records
14.30 – 15.30 – Be With Records
15.30 – 16.30 – Lucky Number
16.30 – 17.30 – Transgressive soundsystem
17.30 – 18.30 – Partisan Records
10% OFF BEER
Via an exclusive partnership with DICE, the fantastic brewers of London Brewers' Market are offering 10% off selected draught beers! Sign up for tickets here!
AFTERPARTIES
Spiritland will be hosting ILM DJ Sets of Late Night Tales and Brownswood during the day, followed by a BBE Music after-party from 8.00pm until 01.00am – FREE!
Be With Label Party / ILM After Party – 7.30pm to 1.00am
Join us for an afterparty over the road at the The Standard to enjoy the Be With Records soundsystem, brought specially down to London from Manchester by label head Rob Butler. Rob's fluid, all-vinyl sets take in sweet soul, tough funk, rare groove, modern R&B, perfect pop, library nuggets, deep disco, dilapidated boogie, classic hip-hop and any combination of the above so expect an "anything goes" approach and expect the best.
Independent Label Market is supported by Association of Independent Music – www.aim.org.uk