LONDON SPRING MARKET
20th May, 2023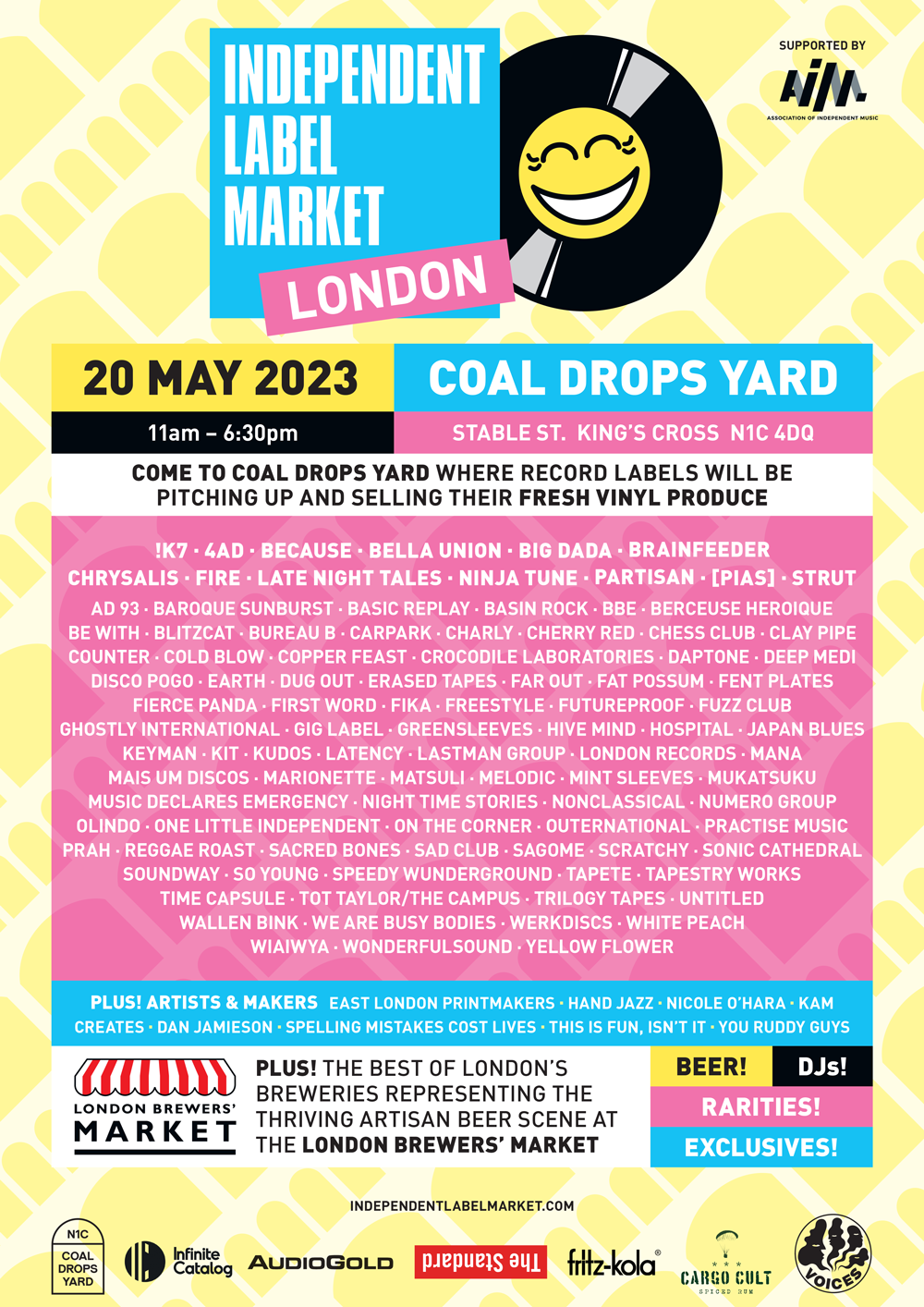 We are coming back to Coal Drops Yard in Kings Cross on the 20th of May!
Join the best indie labels in town who will be selling their finest releases including vinyl rarities and test pressings as well as extended back catalogues, signed merchandise and advance copies.
London Brewers' Market will be bringing London's finest brewers representing the thriving Artisan Beer Scene including Against The Grain, Exale, Five Points, Forest Road, Gan Yam, Orbit, Signature, Two Tribes and our partners Cargo Cult, Fritz Cola and The Standard.
Find Spelling Mistakes Cost Lives, You Ruddy Guys, This Is Fun, Isn't It, Hand Jazz, Kam Creates, Nicole O'Hara, East London Printmakers and Dan Jamieson at our Craft Makers & Artists Corner!
---
DJ sets powered by Audio Gold
11.00 – Ninja Tune
11.45 – Jasmine Morris (Nonclassical)
12.30 – Cold Blow
1.30 – Time Capsule
2.30 – Andy Bell & Masal (Sonic Cathedral)
3.30 – Be With
4.30 – Hospital
5.30 – Late Night Tales
Voices Radio takeover
1.30 – Delilah Holliday (One Little Independent)
2.30 – Ghost Car (One Little Independent)
3.30 – Whitelands (Sonic Cathedral)
4.30 – Paula Juana (Soundway)
6.30 – Deep Medi
live music showcases
1.00 – Morgan Harper-Jones (PIAS)
A candid and enrapturing new voice from Rochdale. Her soulful vocals and honest lyrics tap into obsession, infatuation, and the unhealthy behaviours that come with the territory
1.30 – Deary (Sonic Cathedral)
The new London-based dreampop duo, whose shimmering, hazy debut single 'Fairground' was released in January with a remix by Saint Etienne for an EP release this Spring.
2.00 – lilo (Practise)
The folk duo comprise Winchester natives, Christis Gardner and Helen Dixon who craft beautiful harmony-led pop across a full-bodied band sound. Their lyrics speak for their generation too, encapsulating the panic, anxiety and love of twenty-somethings at a time of great uncertainty.
2.30 – Joe from Gag Salon (Blitzcat)
Joe from the art-rock outfit Gag Salon (Blitzcat) who have been causing somewhat of a stir with BBC R1, R6, NME and So Young Magazine with their nightmarish vaudeville and folksy balladry.
Afterparty at The Standard
Pete Buckemham
Pete Buckenham is a sound explorer and music journalist. He launched his label On The Corner Records after years of digging and investigating different scenes, known for its personal connections to the world of electro, spiritual jazz and percussive house music.
Donwella
Influenced by her time living and DJing in South Africa, Donwella's sets flow through a spectrum of genres. With her monthly residency at Balamii radio being selected as one of the station's top shows of 2020, Donwella has been establishing herself as a DJ and radio host whose love for music you can hear through her thoughtfully curated selections.