BERWICK STREET
21st May, 2011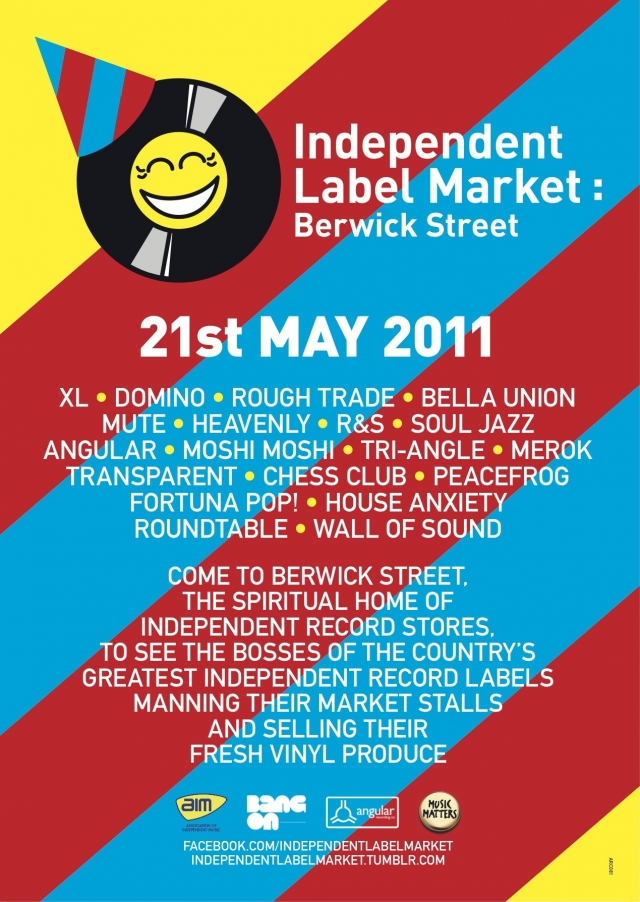 "I started making mixtapes and selling them. I had a stall in Camden market. That's really what a record company is, apart from the fact it's not legal. You sort the music, get the artwork done, do the manufacturing and then sell them. That was actually the most fun, visceral way of running a record label that I've ever been involved in, because you talk to every single person who buys something" (Richard Russell, Founder of XL Recordings)
On Saturday 21st May 2011, as dawn broke in Soho, crates were unpacked, awnings stretched out and Independent Label Market breathed life into its lungs for the very first time. Something very special was about to take place in Soho's Berwick St. Never before had a load of the UK's great indie record label bosses joined together to pitch stalls and sell their own records themselves at their own unique brand of farmers market.
Armed with flasks of tea and punnets of 7"s, each label boss manned their own stall and spent the day meeting their public – and where better to launch this than on Berwick Street, where the first market appeared in 1778. As the label bosses acquainted themselves with the fruit and veg guys and figured out which way round to put the tarpaulin, a slight uncertainty gave way to beaming smiles from everyone as the sun shone and A LOT of fresh record label produce was sold…
Berwick Street and the surrounding area has always been very well known for its independent record shops, especially through the 1990s into the early 21st century (including Vinyl Junkies, CD City, Sister Ray, Selectadisc, Reckless Records, Phonica, and Mr Bongo's), however many have now closed due to the emergence of digital downloading.
Here are some reminiscences from the stall holders themselves:
"It was just gratifying to feel that independent labels, from the chiefs to the bottle washers, were all doing something together to show that the spirit of 77 was not entirely dead." (Geoff Travis, founder of Rough Trade Records)
"This turned out to be the surprise most fun and satisfying event of the year so far. With the atmosphere of the best festival and a real sense of heart and purpose this simple but effective idea seemed to hit the nail on the head when it came to ideas about how the music industry might actually be able to start re-igniting the imaginations of the British buying public again."(Stephen Bass, founder of Moshi Moshi)
"The sight of Laurence Bell in his "Domino" boilersuit, there at 8:30am, also hammering bits of metal together to create the stall, was re-assuring, and the day just got better and better. Love was all around. Special moments were in abundance. People love to buy music when they can see it and touch it like that. No question it should be a regular event." (Simon Raymonde, founder of Bella Union)