BANDCAMP FRIDAY
3rd July, 2020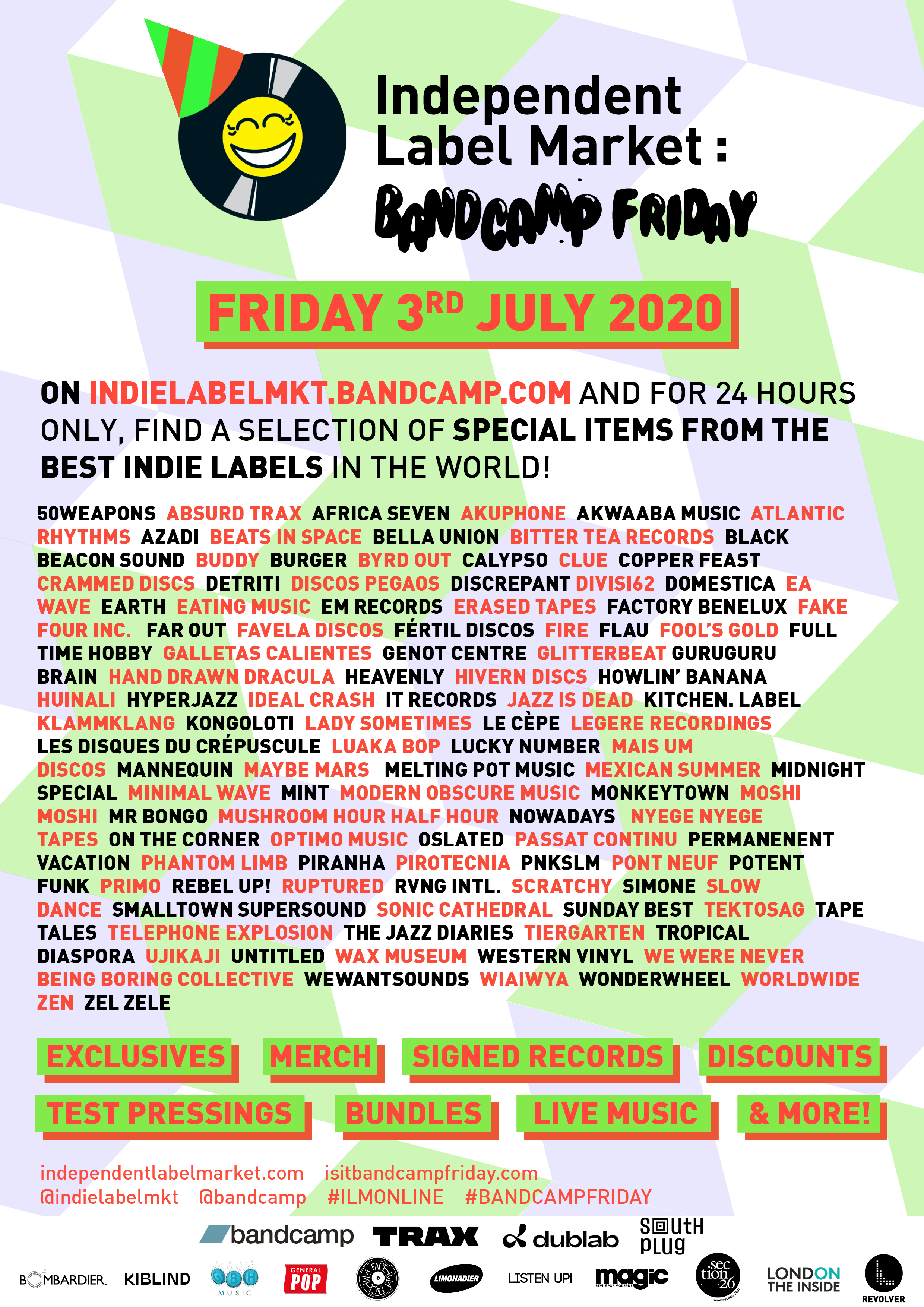 We're coming back on 3rd July with Bandcamp for a global online label market!
As the current pandemic is putting the music industry on hold, we are going online, and joining forces with Bandcamp to support independent labels from Europe and beyond!
Connect to the ILM Bandcamp page on 3rd July, when Bandcamp is waiving its admin fees for 'Bandcamp Friday', to find a very special selection of offers from the best indie labels around the world, available for 24 hours only!
Find a preview of labels items here
Find the the playlist of the event here 
streamed dj sets and lives here
LIVESTREAM PROGRAMME
DJ SETS
BDRMM (UK, Sonic Cathedral)
Benjamin Frölich + Rhode & Brown (Germany, Permanent Vacation)
Nick Catchdubs (USA, Fool's Gold Records)
Photay (USA, Mexican Summer)
Riyo Mountains (Japan, EM Records)
Solo Moderna (Colombia, Galletas Calientes Records)
Tim Sweeney (USA, Beats In Space)
LIVE
Claire Birchall
(It Records – Australia)
Cloud factory (France, Howlin' Banana Records/Le Cepe Records)
El Buho (USA, Wonderwheel Recordings)
Fantasna (Chile, Pirotecnia)
Ibaaku (Ghana, Akwaaba Music)
Kinematik (Lebanon, Ruptured Records)
Kin Leonn & Hiroshi Ebina (Singapore, KITCHEN. LABEL)
Laure Briard (France, Midnight Special Records)
Nandele (Mozambique, Kongoloti Records)
Pouya Eshaei from Ariwo (UK/Iran, Byrd Out)
Ricardo Richaid (Brazil/UK, Far Out Recordings)
Syrup (Twit One, Turt & C.Tappin) (Germany, Melting Pot Music)
indielabelmkt.bandcamp.com
bit.ly/ILMONLINE
isitbandcampfriday.com
www.independentlabelmarket.com
#ILMONLINE #BANDCAMPFRIDAY