PARIS
1st October, 2016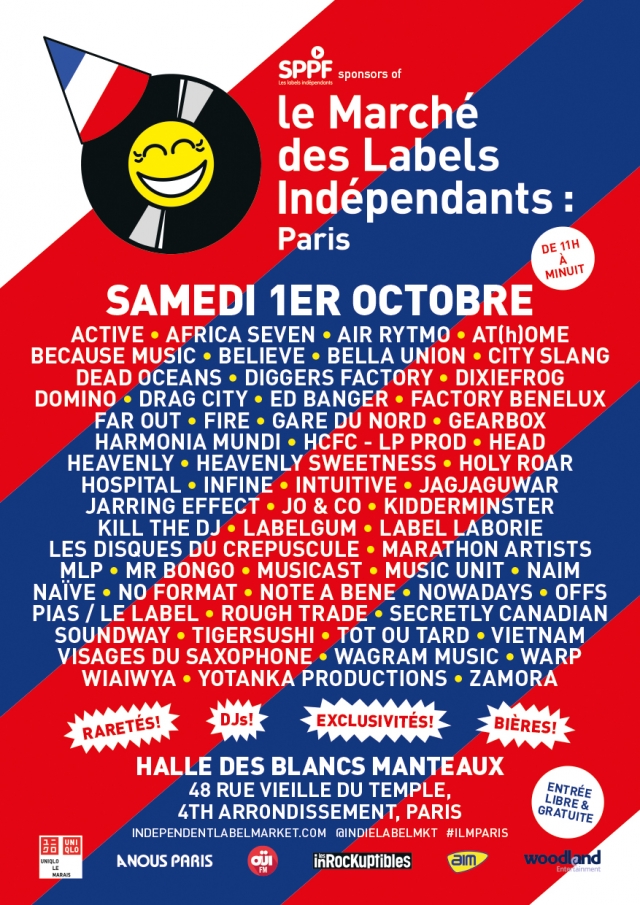 SPPF and Independent Label Market are delighted to announce that they will be hosting a debut 'Le Marché des Labels Indépendants: Paris', in Paris on the 1st October 2016. Le Marché des Labels Indépendants: Paris will take place in the cultural venue Halle Des Blancs-Manteaux where market stalls will be accompanied by a bar and DJ sets throughout the day.
Seventy independent record labels from across the globe will come together for this very special Parisian debut.  Labels include homegrown French talent such as BECAUSE MUSIC, ED BANGER, KILL THE DJ RECORDS, PIAS / LE LABEL and WAGRAM MUSIC, German stalwarts !K7, from across the Atlantic DRAG CITY and SECRETLY CANADIAN.  As always, the UK labels will be supported by AIM – the Association of Independent Music.  AIM will be supporting UK labels such as BELLA UNION, HEAVENLY, HOSPITAL and WARP to make the trip across the channel.
As ever, there will be artist signings and the labels will be showcasing their extended back catalogs, as well as bringing a collection of exclusives, rarities, signed merchandise and advance copies.
In London three times a year, and in Bristol, L.A., Berlin, and Barcelona annually, label founders and music fans come together to hang out as a community and buy records. As the music industry embraces mp3s and a more digital strategy, Independent Label Market is proving to be a valuable reminder of how music retail can be a social affair.